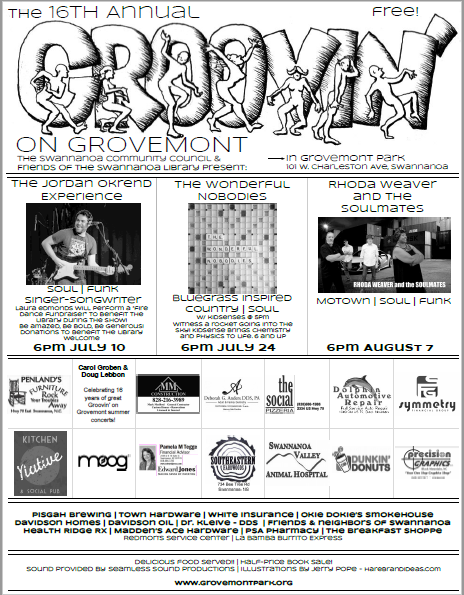 The 16th annual Groovin' on Grovemont summer concert series returns to Grovemont Square (adjacent to the Swannanoa Library) on July 10, July 24 and August 7, at 6:00 p.m.
Bring a blanket or lawn chair and come enjoy these family-friendly evenings of great music, brought to you entirely by local sponsors and community volunteers! The concert series is free and open to the public.
Concessions are themed to go with the musical genre for each night, and feature a wide variety of gourmet comfort foods (details below). All donations and proceeds from concessions benefit two nonprofit organizations, the Friends of the Swannanoa Library and the Swannanoa Community Council, and support the Swannanoa Library and Grovemont park and playground.
7/10/2018 6:00pm: The Jordan Okrend Experience
The Jordan Okrend Experience is more than one thing. First, there is the signature sound, vintage pop imbued with an infectious funky jazz edge. There is also something else. Soulful music with socially conscious lyrics, that has all been but lost in today's current pop climate.

he Asheville NC based singer/songwriter released his first two EP's, Unpredictable and Rising Up, between 2010 and 2012 while attending Berklee College of Music in Boston and has been performing extensively throughout the East Coast ever since. Has performed at notable venues such as Rockwood Music Hall, The Bitter End, Smiths Olde Bar, Gypsy Sally's and The Grey Eagle. His 2015 EP World Keeps Turnin was a clear indication that Okrend had thrown his hat into the ring of other soul revival upstarts such as Allen Stone and Michael Kiwanuka. The EP blended the old school with the contemporary while echoing the conscious elements of his musical heroes-Lennon, Hendrix and Marley. krend's latest album, Dance By The Riverside (2017) is a buoyant meditation of the stresses of the modern world, with a distinctively funk and retro soul vibe. IndieMinded says "Okrend's latest offering delivers in a big way, Soulful vocals in the vein of Amos Lee and Allen Stone, expert instrumentation that includes everything from electric guitars to horns, and meaningful lyrics."

More info: www.jordanokrend.com/

Special - 7/10/2018 concert only -- Fire Dancer Laura "Lulu" Edmonds will perform a fire dance with batons and hoops during the show! Edmonds is part of the Unifire Theater Troupe, and is also a librarian in the Buncombe County Library System.
Concessions menu: "Taco Night" - Chicken or tempeh tacos, Spanish rice w/black beans, lime chili grilled corn on the cob, chips & salsa, mint fruit salad, special hamburger w/sliced jalapenos & pepper-jack cheese, veggie burgers, pizza from The Social Pizzeria, and more!
July 24: The Wonderful Nobodies
The Wonderful Nobodies (Seth Taylor, Lacy Green, & Aaron Williams) are a Nashville-based group of singers, songwriters, and multi-instrumentalists all hailing from the Appalachian region of Virginia and North Carolina. Individually, they have played stages from the Grand Ole Opry to Carnegie Hall, toured the country, and performed on numerous recordings. Collectively they deliver a unique blend of bluegrass, pop, soul, & country with outstanding vocals and top-notch instrumentation.

Concessions menu: "Bluegrass Picnic" - Pulled BBQ pork sandwich, baked beans, mac-daddy & cheese, fried zuchini, heirloom tomato salad, special hamburger w/fried pickles & pimento cheese, veggie burgers, pizza from The Social Pizzeria, and more!

Special pre-Groovin' library program: Kidsenses: Rockin' Rockets: Witness a rocket going into the sky! Kidsenses brings chemistry and physics to life. Ages 6 and above. Begins at 5:00pm on July 24. Come out early with the kids to this pre-Groovin' program in Grovemont Park.
August 7: Rhoda Weaver and the Soul Mates
Rhoda Weaver and the Soul Mates are a local band out of Western NC. The band is comprised of three very talented, seasoned musicians, with a powerhouse lead singer who has been singing for over 30 years. They play everything from Motown to The Animals to Etta James to Fleetwood Mac. They have a great chemistry onstage and it shows. Their collective goal is to lift people up through music, and if you've ever been to one of their performances you know that's exactly what they do! More info: www.facebook.com/rhodaweaverandthesoulmates/

Concessions menu: "The Big Easy" - Chicken & Sausage Jambalaya, red beans & rice, cracklin' cornbread, Cajun roasted corn salad, special hamburger w/pimento cheese & sliced ham, veggie burgers, pizza from The Social Pizzeria, and more!
Bonus feature during every concert: GIANT HALF-PRICE BOOK SALE during each Groovin' concert, 5:00 - 8:30 p.m. at the Swannanoa Library, 101 West Charleston Avenue. Thousands of great books at unbelievably low prices!
Sponsorships, donations, and volunteers are still welcome and encouraged -- If you would like to support Groovin' on Grovemont through a sponsorship or donation, or as a volunteer, please (828)250-6486, or visit www.GrovemontPark.org